Recent Projects and Shows

Click below for pics from my summer trip to Italy...

dp
While I minimize the use of post processing, or 'Photoshopping" for my shots, sometimes mother nature just does not cooperate. The before shot above makes for a rather dull waterfront view with the cloudy, dour weather. For the after image, I used Nikon's CaptureNX software to brighten the mood and vitality of the shot, giving the same image an appearance of a summer sunset on the York River, as viewed from historic Yorktown, VA.




dp
This shot was taken in an abandoned industrial building in a part of Hampton, Virginia that is undergoing a revitalization. The overhead door appears to be no match for the natural sunlight outside, with a midday intensity that forces its way through a barrier that has withstood neglect, gunfire, and who knows what else on the streets just beyond. As if the door is being pushed off its frame to welcome in the neighborhood re-birth that is going on…




dp

City of Richmond continues to showcase its most dynamic redevelopment projects in the Winter 2009 issue of

Work

Magazine, featuring some amazing buildings and including some of my recent shots.

dp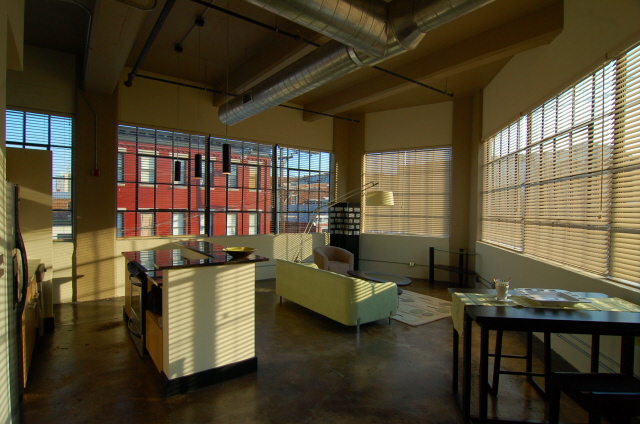 You may see this photo alot around Richmond, including

www.venturerichmond.com

. It is one of my shots of a loft unit in the newly renovated Emrick Flats building (

www.emrickflats.com

). It is the featured photo in advertisements for the Richmond DOWNTOWN LOFT TOUR and has appeared in the

Richmond Times-Dispatch

,

Style Weekly

,

River City Richmond

magazine and

Creative Work Space

magazine.
dp
The Winter 2008 issue of

Creative Work Space

magazine provides an update of downtown Richmond's latest development projects. The issue features some of my photos of one of the City's hottest condominium projects, a restoration and new construction at 25th and Franklin Streets in Church Hill, known as The Reserve. See the latest on this exciting project at

www.reserve25.com
| | | |
| --- | --- | --- |
| | | |
dp
All images and text in this web site are Copyright © Dennis Papa 2006-2010. No use or reproduction of images or text by any means is allowed without written permission from Dennis Papa.